Notice board
PAST STUDENTS! IF YOU HAVE CHANGED YOUR CONTACT DETAILS, PLEASE LET THE COLLEGE KNOW.
*************
INSURANCE: Make sure you are fully covered by insurance in hypnotherapy, past life therapy and spirit release therapy. We recommend Balens. Request an application form on: 01684 58077.
***************
We have run several Diploma courses in Spain over the years….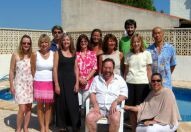 _____________________________________
Dr Hearne's original chart records of persons signalling from within lucid dreams, along with a Dream Machine (his original invention) are on permanent display at the Science Museum  in London.
****
Psychologist Dr Hearne has been appointed to the Advisory Board of the General Hypnotherapy Standards Council.
****
THE NEXT ONE-DAY CPD WILL BE ANNOUNCED HERE SOON.
 ***********************************
A NEW SCRIPT, REGARDING REVERSE-SPEECH:
DECODING OF UNCONSCIOUS BACKWARDS-SPEECH OF OTHERS TO THE CLIENT'S CONSCIOUSNESS
(Hypnosis script to be used on therapists or others wishing to be alerted to reverse-speech in persons)
David Oates discovered the phenomenon of reverse-speech (www.reverse-speech.com). It seems that during consciously constructed speech, the unconscious mind can modify the choice of words, and cause other vocal sounds, so as to send its own (truthful) message to another's unconscious in the disguised form of backwards -speech. The other's backwards-speech can also be received and understood by an individual's unconscious mind. The computer-like abilities of the brain make this process possible. It is clearly an evolutionary advantage in social situations to be aware of the 'secret thoughts' of others. Therapists listening to clients, and anyone wishing to know what people are really thinking – especially those in positions of possibly dangerous power – would benefit from some induced procedure to 'tune into' the backwards-speech of others at will. This experimental hypnosis script provides a method for opening that possibility. Firstly explain backwards-speech to your client, preferably playing examples.
'You the unconscious mind of ( client's name ) … are aware that you can both send and receive information with another person by way of backwards-speech …
so that as your conscious mind prepares words to be said forwardly … you the unconscious are able to influence the choice of words … and add other sounds… so that you can convey your own message to the other person's unconscious mind by creating backwards-speech …
similarly … while the other person is speaking forwardly … you the unconscious mind of this person is able to listen-out for backwards-speech messages from the other person's unconscious …
now that the process is understood … I want you to see that it will be very beneficial for this person ( client's name ) sometimes to become aware consciously of any backwards-speech happening in others … after all, their speech could, anyway, be recorded and played back … you can reverse the backwards-speech in others and let the result enter the conscious mind of ( client's name ) so that it is understood by the conscious mind …
it would also be useful if you could switch this process on and off at will … so from now on when you want to consciously receive decoded backwards-speech in others talking to you … think 'decoder on' …
and when you want to switch it off … think 'decoder off' …
when you the unconscious have been instructed 'decoder on' … constantly monitor the speech of others around and cause the decoded backwards-speech to enter this person's consciousness …'
(Repeat several times)